ELFA Chinese Preschool adopts a Bilingual Curriculum approach with strong emphasis on Chinese language acquisition that is in line with guidelines provided by the Ministry of Education.
Established in Singapore since year 2000, ELFA operates a network of more than 30 preschool centres in Singapore and China, providing quality care and educational services for children between the age of two months and six years old.
We would like to invite your pre-schooler to experience the ELFA curriculum at our Open House on 15th December, between 9am to 1pm across the 4 centres we have in Singapore.
Watch children unleash their creativity at "Ink Painting & Calligraphy – 毛笔画" or "Craft the Story – 走进绘本". Or flex their muscles at our Chinese interactive game "走走跳跳学汉字".
Exclusively for parents with infants, ELFA Preschool @Serangoon has a special programme, "Infant Massage – 幼儿按摩" where infants are in for a time of relaxation and enjoyment.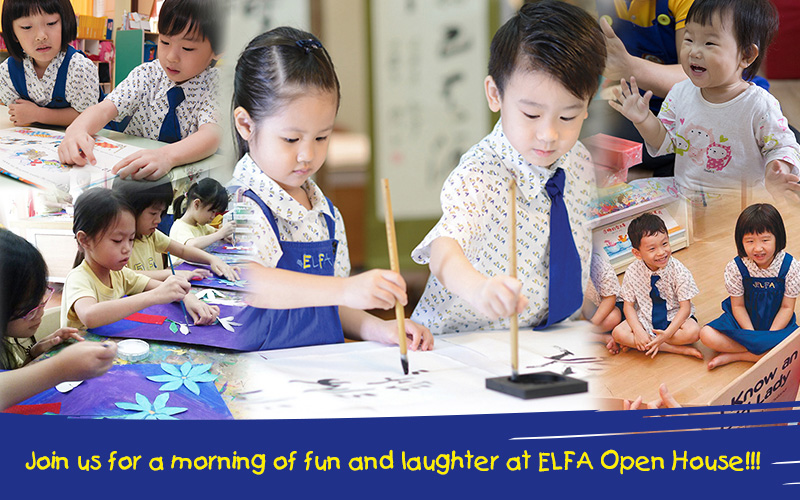 PARTICIPATING CENTRES
Preschool Centres
Serangoon
587 Upper Serangoon Road
Singapore 534564
Infant care service available
Pandan Valley
3 Pandan Valley
#01-316 Singapore 597627
Pari Burong
No. 91 Jalan Pari Burong (Simei)
Singapore 488730
Tampines
Tampines Central Community Complex
Blk 866A, #04-01, Tampines St 83
Singapore 521866
*SPECIAL PROMOTION available exclusively for New Enrolment only. Talk to each centre to find out more! Terms and Conditions Apply.
REGISTRATION FORM
Thank you for your interest in ELFA Chinese Preschool. Please submit the registration form to confirm your spot at the open house as we have limited space. See you and your family on the 15th December!