ELFA Preschool – a paradise for children's holistic learning and growth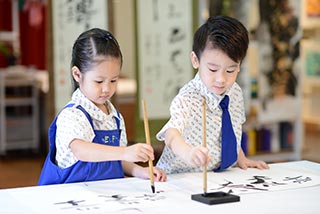 ELFA Preschool is one of the four early childhood brands under the Crestar Education Group (CEG), Singapore. Building on its five decades of expertise in early childhood curriculum development, operations and centre design, the Group has expanded beyond Singapore, to Malaysia, Indonesia, Bangladesh, China and Cambodia. It now operates more than 120 centres in the region, offering its rich educational programmes to more than 20,000 students annually.
Currently with three centres in Pandan Valley, Serangoon and Tampines, the ELFA Preschool brand was launched in Singapore in 2000. Groundwork for the overseas expansion of the brand had begun much earlier, in the mid-1990s, with numerous business and study missions to China initiated by International Enterprise (IE) Singapore, the government agency driving Singapore's external economy. In 2001, CEG set up the first ELFA preschool in Binzhou, Shandong Province, using a Singapore-designed curriculum customised specially for the China market for enhanced learning environments.
Today, the ELFA Preschool Group has some 30 preschool centres in 19 cities all over China and in Singapore.
ELFA Vision
To participate in and to lead the development of early childhood education throughout Asia.
ELFA Mission
To provide ELFA preschool's quality child care, education and administration services where they are needed; to implement and strengthen the Group's advanced concept of education and administration; to spur each ELFA preschool to become a paradise where children enjoy their holistic and harmonious development.