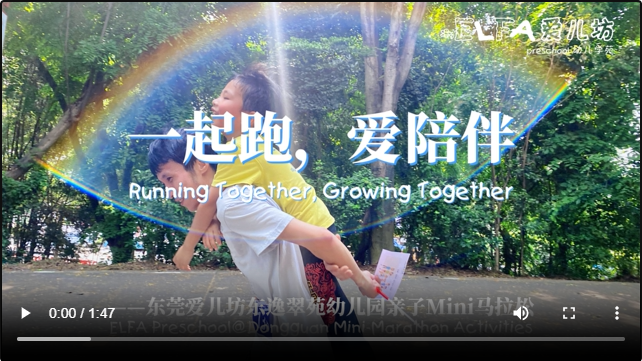 On 20 May 2023, ELFA Preschool @ Dongguan held a Mini-Marathon with the theme of "Running Together, Growing Together". This event was a perfect opportunity for parents and children to deepen their bonds by enduring this challenge together.
Our Mini-Marathon was held in Houjie Fengshan Park, with a 1.8km course laid out. On the morning of the event, our teachers arrived early and went about their preparations to welcome our parents and children. As the clock ticked closer to the event's start, lively music played, and our guests gathered, making good use of the reception wall for photo-taking.
Our principal kickstarted the event with a passionate speech. She told our children that the purpose of a marathon is to encourage all participants to endure and build resilience. A family-oriented event focused on family bonding, she hoped parents could accompany their child along the run, cheering each other on and keeping focused on the end goal to finish without regrets.
ELFA's own little Wushu team then put on an exciting performance. It was followed by a rousing cheer routine from our teachers, ramping up the atmosphere. Our athletes of various ages were excited and ready to start the Mini-Marathon.
At the start line, the participants eagerly awaited the starting gun. With a bang, the Mini-Marathon was officiated, and the running began!
Our eager participants set off energetically, working up a healthy sweat. Along the route, our teachers had set up refill stations where participants could re-energise themselves with lemonade, chrysanthemum tea, bananas and other refreshments.
Nearing the finish line, the weary children pushed themselves for one last burst amidst loud cheers from their parents and teachers. Completing their first ever race, joy beamed from every face and their pride shone as bright as their finisher's medals.
The Mini-Marathon that had begun with such excitement thus ended with great emotion and satisfaction. Rather than a contest of speed, it was a fun journey where our parents and children provided each other with loving support and spent a wonderful day together.
Through the Mini-Marathon, our children moulded their determination and ability to overcome difficulties. Helping them along this character-building were their parents, who both provided crucial support and witnessed their child's growth first-hand. We hope our children continue to sprint down this path as they grow into middle childhood!