Developing Positive Values With A Strong Chinese-Focused Bilingual Education For Preschoolers in Singapore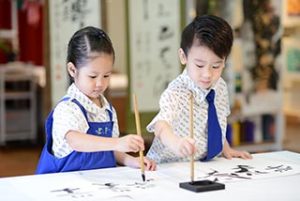 Established in Singapore since year 2000, ELFA operates a network of more than 30 preschool centres in Singapore and China, providing quality care and educational services for children between the age of two months and six years old.
ELFA Preschool Singapore has three centres providing bilingual Chinese and English curriculum for preschool and kindergarten. ELFA places great emphasis on the acquisition of Chinese oral language and reading skills. We strive to nurture our children's interest and build a strong foundation in Mandarin with early immersion in the Chinese language and culture.
ELFA's children learn and develop holistically through integrated, interactive and hands-on approach in both Chinese and English language.
ELFA Singapore Mission
To build a strong Chinese-focused bilingual education, and a love for language through a culturally-rich learning environment in the early years.
THE LARGEST SINGAPORE PRESCHOOL BRAND IN CHINA
ELFA has established itself as a respected Singapore preschool brand in China following its foray into the country in 2001 with its first ELFA centre in Shandong Province. Today, it is the largest Singapore preschool brand in China, with more than 30 centres in nearly 20 Chinese cities, including key locations such as Shanghai, Beijing, Dalian, Nanjing, Chengdu, Chongqing, Wuhan and Xi'an.
ELFA's success is drawn on the reputation and experience of its Singapore-based parent company, the Crestar Education Group, which has close to four decades of expertise in early childhood curriculum development, operations and centre-design.
The curriculum for the ELFA network in China is based on the successful and proven programme developed by Crestar Education Group's team of highly experienced and renowned educators in Early Childhood education. The curriculum has been customised by the ELFA team in China to comply with requirements by the country's Ministry of Education in preparing children for formal schooling.
To ensure that its preschool facilities are of the highest standard to meet the stringent requirements of the local authorities, ELFA China works closely with well-established international consultants from the USA, Australia and New Zealand. The architectural design of the iconic preschool in Dalian's Yida International New City development, commissioned by Yida Real Estate Development, is a good example of our dynamic collaboration that combines the best practices of the West and the East. This design has won wide acclaim from the international architectural circles.