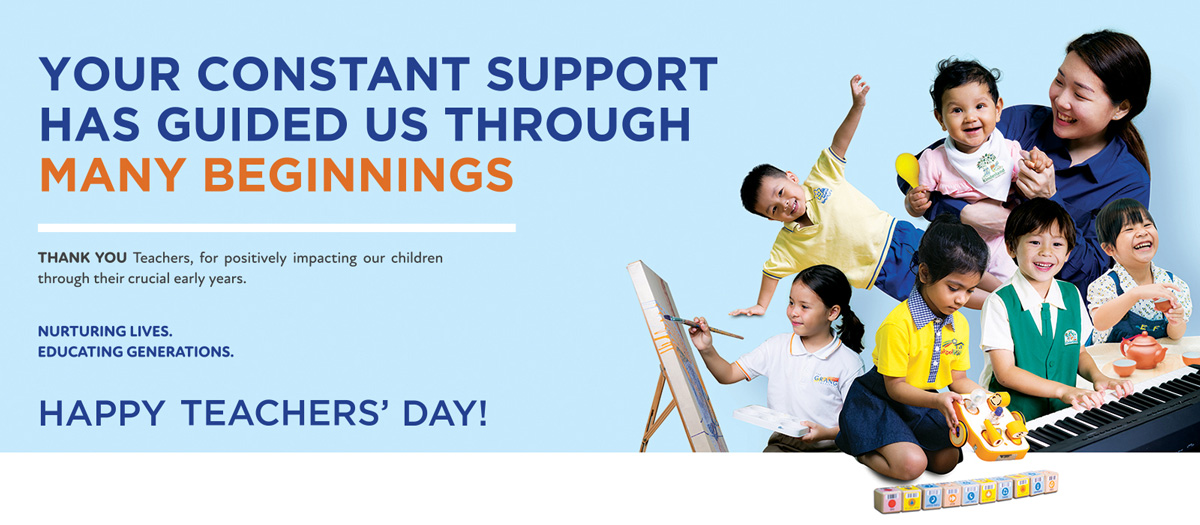 ELFA Chinese Preschool @ Pandan Valley
Dear Teachers at ELFA,

Thank you for teaching with your heart.
Liam loves coming to school.
We feel your love, commitment and dedication from each and everyone of you.
Huang Laoshi, Lee Laoshi and Teacher Rachel.
Liam always talks about the things you do with him.
It is a pity we only just joined the centre. Nonetheless, thank you for journeying with him through this last preschool phase.
Thank you very much.

Much love,
Shuo Kai & Family
ELFA Chinese Preschool @ Serangoon
Thank you Teacher Pat and the team of Teachers at ELFA (teacher Hannah and teacher Dai) for your dedication in nurturing Andre! We are Glad to have this wonderful team constantly encouraging Andre in the areas where he can develop his strengths and he looks forward to school everyday!
Dear Teacher Lynn and Wang Laoshi,

I just wanted to let you know how much we appreciate all the work that you do. Because of you, our child loves school. Thank you for everything that you do!

From Renee's Mummy and Daddy
I would like to express my sincere appreciation to all the teachers taking care of our son Mika. We are and have been continuously impressed by the great work the teachers are performing on a daily basis.

We are very happy with the choice we made when selecting this school. Looking forward to seeing Mika's further development with your support.
The smile and welcoming presence of the Teachers of ELFA Preschool @ Serangoon brightens up the mood of all the children in school each day. My child always looks forward to seeing all of you every day.

Thank you, especially to Teacher Tan (Tan Laoshi) for your tireless attention and unwavering care for my child and all your Pre-Nursery A students. You are a great teacher!
We would like to express our gratitude to the teachers of ELFA Preschool for teaching, guiding and showing care to our daughter, Isabelle. We wish all teachers of her class a wonderful teachers' day!!
Thank you very much for your daily hard work to make our children smile. I believe being a teacher to young children is one of the hardest jobs, requiring responsibility, perseverance and tolerance that not everyone possesses.
Everyday when my son comes home, he says school was fun. I believe it's because of all the teachers' efforts in making the school a place where children look forward to going.
Thank you to the Principal and Teachers at ELFA Serangoon for creating a warm and nurturing environment for the children. I am happy to see my boy and his schoolmates running joyfully towards Teacher Patricia and some others to offer them hugs. And the numerous activities of various themes/topics help to build up children's knowledge and vocabulary. I really appreciate the extra mile that the Teachers put in to grow garden plants, offering our children opportunities to learn about nature. And it is great having the spelling and test components in school to prepare K1 and K2 students for primary education. Great job.
Thank you Teacher Ai Ling and Tian Lao Shi for your patience and hard work in caring for Liam ! Much appreciated ! :)
Kirana joined Elfa in May, and in this short period of time we can see much improvements with her Chinese language.
We are thankful for the guidance and quality care that the teachers and lao shi have provided for Kirana.
Dear Teacher Lynn and Wang Laoshi,

Thank you for taking good care of Sophie and making school enjoyable for her. Appreciate all your time invested in these young children.
Thank you to all the teachers in ELFA@Serangoon for your dedication and hard work! Special thanks goes out to Teacher Lyn and Wang Laoshi for making everyday in ELFA special for Maia! :)
非常感谢老师们对EUAN毅扬的照顾与教导,让他能够在ELFA健康、快乐地学习成长。
Dear Teachers,

Thank you for your dedication in nurturing our kids! It's not an easy job and we really appreciate your patience and commitment.

Rayner loves you all!

Happy Teacher's Day!

Yours sincerely,
Rayner Ang & Family
I want to draw attention to Yue Kun's teachers: teacher Lyn and Wang Lao Shi, who are highly responsible and very caring to children.

– Due to Yue Kun suffering from a very serious allergy, the teachers pay more attention to him and takes note of what he eats in school EVERYDAY. I indeed appreciate it and know it's not an easy task to keep to on a daily basis given an already fully-occupied schedule for the teachers in school.

Both teacher Lyn and Wang Lao Shi are quite responsive in the communication book.

– As I cannot send and pick Yue Kun up everyday, I rarely see his teachers, however both of them are quite responsive to my notes in the communication book and frequently update my helper on what's happening in school and how Yue Kun is doing in school.

Thanks SO MUCH teacher Lyn and Wang Lao Shi. Hope you can keep up your awesome work and make Yue Kun feel your love and care in school.
We would like to thank Ji lao shi for being so passionate about the children. Even though she is new, Matthew has really taken to her. Keep up the good work!!
Hi teachers Dolly, Lee laoshi & Kris

Thank you so much for taking such good care of Timothy. It is my first time placing my child in infant care and I was very worried intially but the three of you have constantly assured me and seeing how well you all took care of "Ah Tim" (which you all lovingly call him) has certainly given me the confidence and peace to leave him at the centre full day while I work.

It is not easy to care for infants and toddlers as it is very physically demanding. However, you three are just superb! Ever smiling and energized! Keep up the good work! My husband and I really appreciate your dedication and care to "Ah Tim" and the rest of the children.

Here's wishing the three of you a very Happy Teachers' Day! 😁
Big shout out to all the wonderful teachers at ELFA Preschool @ Serangoon.

Appreciate the care and concern showered upon the kids, and demonstrating effort in both class and school activities so that they will learn and enjoy their time at ELFA.

Thank you for the hard work put in in nurturing the kids!
Thank you so much to Teacher Pat, Teacher Lyn and the rest of the teachers who made the first day of full Home-based Learning a success! Trying out zoom is challenging, but getting the (preschool) children to participate in a zoom meeting is way beyond imagination. Kudos to all the ELFA teachers for the e-learning attempt and making our children look forward to the class every day.
Thank you, teacher, for conducting the online lesson today. The children are so excited and following up with the task assigned.
Thanks ELFA teaching staff for preparing HBL materials during this challenging period. We appreciated it very much.