Children from ELFA Preschools in Singapore this year were over the "moon" to celebrate Mid-Autumn Festival. The celebration was held virtually and "live" with their counterparts in ELFA Preschool @ Shanghai Ju Yuan to mark the occasion and make memories together.
明月寄相思, 千里相聚时 (míng yuè jì xiāng sī, qiān lǐ xiāng jù shí) – The children materialized this meaningful sentiment by gathering virtually under the same bright full moon despite the distance. The session was held over Zoom, where children soaked in the atmosphere and learned more about the culture and its tradition.
The programme began with the teachers explaining the origin and significance of Mid-Autumn Festival. The festival, which falls on the 15th day of the Lunar Eighth month, is a major cultural event in China.
To help the children understand why they see a full moon only once a month, the teachers explained using pictorials how the satellite planet makes a complete orbit of the earth every 28 days changing its shape in various phases.
Every child received a worksheet to bring home so that they, together with their parents, could observe the moon every day for a month and keep a daily record of its position and shape. The hands-on activity allowed the children to understand and appreciate the beautiful moon regardless which part of Earth they live in.
Children from ELFA Singapore learning more about the Mid-Autumn Festival through the zoom session and the activities it entails.
The joint celebration between Singapore and China preschools was wrapped up with a sing and dance-along session.
The children had a fun and unforgettable time with their fellow preschoolers from another part of the world.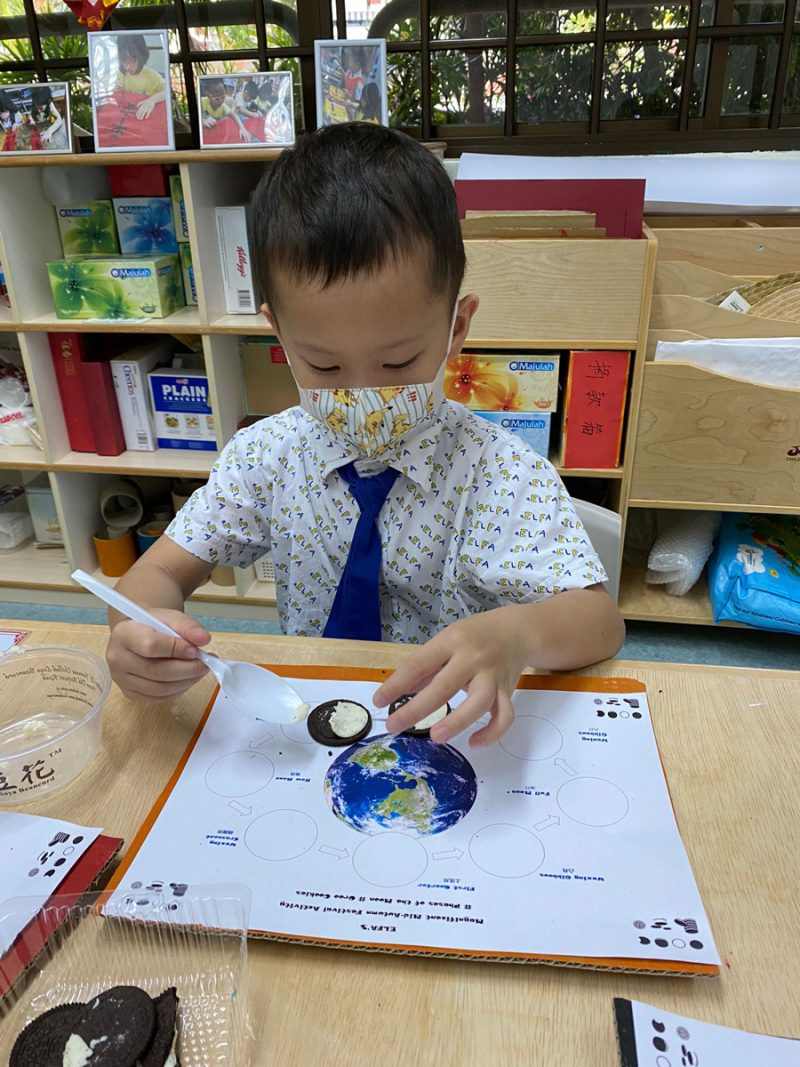 The joy is best summed up by Ernest Tim from Kindergarten Two at Elfa Preschool @ Pandan Valley, who shares: "I met China friends and we learnt about the moon, how they change shapes into a crescent shape. I enjoyed meeting my friends from China as we learnt together in English and Mandarin."
This activity has provided a platform for both ELFA Singapore and ELFA Shanghai to interact with each other,
Children, when given the opportunity to be learn about the universe, will have growing curiosity about the world. Kinderland will continue to mold the country's future by providing children opportunities to learn and express themselves freely and happily.
As we widen the children's horizons, we hope that they will always learn and explore with an open mind. The human's exploration is never-ending in this vast universe. Let's look forward to the next exciting adventure together!